...
In addition to copying the URL you can click on the Bookmark and Share options to quickly share the selected content with a number of social media options. 
Image Removed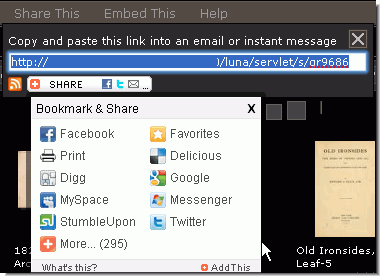 Image Added
Embed This- Embedding Content
...
5. As you customize the web widget you can preview the changes in the preview pane. When you're finished simply copy the code below the preview pane and paste it into your wiki, website, blog or forum. The code will also include a link back to LUNA so those who you share the web widget with can easily find their way to your original collections.
Image Removed
Image Added
Note
While creating your web widget you have the choice of the following codes:
I-Frame Code is for use with all browsers, but banned by some blog sites and 3rd-party content sites.

Object Tag Code is accepted by more sites, but will not work with Internet Explorer default settings.
To enable an object tag to load content across domains with Internet Explorer, set:
Tools : Internet Options : Security : Custom Level : Miscellaneous : Access data sources across domains : Enable
...